Boy Scouts of America, Order of the Arrow & Unami Lodge One
A History, My Legacy
Mark A. Lewis
In the city of Philadelphia, Pennsylvania on the 15th August 1905 were born twin boys to Joseph Nathaniel Pattison II and his wife Eliza Belle. The boys, Joseph III and William were to play a role at the start of a new movement in the United States known as the Boy Scouts of America. However, this was not until 1916, because prior to 1910 Scouting was an experiment with 20 boys and a camping trip for nine days of August, 1907 at Brownsea Island, near Poole in Dorest, England.
The camp was a huge success and proved to its organizer, Robert Baden-Powell that his training and methods appealed to young people and truly worked.
Today there are more than 28 million Scouts, young people and adults, male and female, in 160 countries and territories. About 300 million people have been Scouts, including prominent people in every field. Pretty impressive since, initially, it was only an experiment.
Lord Robert Baden-Powell of Gilwell (1857-1941) was a decorated soldier, talented artist, actor and free-thinker. Best known during his military career for his spirited defense of the small South African township of Mafeking during the Boer War, he was soon to be propelled to extraordinary fame as the Founder of Scouting.
Robert Baden-Powell was born 22 February 1857. He was, 50 years old when the Brownsea camp took place. His many experiences as a boy and as a soldier played a part in the formulation of this training methods.
As a youngster - one of ten children (six brothers) - he spent his holidays camping, hiking and sailing.
Tent pitching, map and compass use, and wood-fire cooking were but a few of the skills he acquired. Near his school at Charterhouse, England, he used to sneak into the forest, which was off-limits; here he learned how to hide his tracks, climb trees and "freeze" to escape attention if any of the school masters entered the woods.
In 1876 he went to India as a young army officer and specialized in Scouting, map-making and reporting. His success soon led to his training other soldiers for the work. B-P's methods were unorthodox for those days; small units or patrols working together under one leader, with special recognition for those who did well. For proficiency, B-P awarded his trainees badges resembling the traditional design of the north compass point. Today's universal Scout badge is very similar.
 Later he was stationed in the Balkans, South Africa and Malta. He returned to Africa to help defend Mafeking during its 217-day siege at the start of the South African war. It provided crucial tests for B-P's Scouting skills. The courage and resourcefulness shown by the boys in the corps of messengers at Mafeking made a lasting impression on him. In turn, his deeds made a lasting impression in England.
Returning home he found that he had become a national hero. He also found that the small handbook he had written for soldiers was being used to teach observation and woodcraft to members of Boys' Clubs and Boys' Brigade. B-P decided to rewrite the book especially for boys. The 1907 camp on Brownsea Island was to test his ideas in practice.
In January 1908, he published the first "Scouting for Boys", a book issued in fortnightly parts at four pence each. It was an immediate success. Baden-Powell had only intended to provide a method of training boys, something that existing youth organizations such as the Boys' Brigade and Y.M.C.A. could adopt. To his surprise, youngsters started to organize themselves into what was destined to become - and is today - the world's largest voluntary youth movement.
The success of "Scouting for Boys" produced a Movement that quickly – automatically it seemed – adopted the name of The Boy Scouts and necessitated the establishment of an office to administer it.
By 1909 the Movement had taken firm root. "Scouting for Boys" had been translated into five languages. A Scout rally in London attracted more that 11,000 Scouts. As a result of B-P taking a holiday in South America, Chile was one of the first countries outside Britain to begin Scouting. In 1910 he visited Canada and the United States where it had already started.
The coming of the war in 1914 could have brought about the collapse of the Movement, but the training provided through the patrol system proved its worth. Patrol leaders took over when adult leaders volunteered for active service. Scouts contributed to the war effort in many ways; most notable perhaps were the Sea Scouts who took the place of regular coast-guardsmen, thus freeing them for service afloat.
The first World jamboree took place in 1920 with 8,000 participants, and proved that young people of many nations could come together to share common interests and ideals. Since that first World Jamboree at Olympia in London, there have been 17 others at different locations.
During the Jamboree the first International Scout Conference was held with 33 national Scout organizations represented. The Boy Scouts International Bureau was founded in London in 1920.
In 1922 the first International Committee was elected at the 2nd International Conference (Paris), where 31 national Scout organizations were represented. World membership was just over 1 million.
Early Scouts
Scouting began as a program for boys 11 to 18 years of age. Yet almost immediately, there were demands by others to participate. The Girl Guides program was started in 1910 by B-P. His wife Olave, whom he married in 1912, became Chief Guide.
A Wolf Cub section was formed for younger boys. It used Kipling's "Jungle Book", to provide an imaginative symbolic background for activities. For older boys, a Rover Scout branch was formed.
The names and characteristics of program vary from country to country: Cub Scouts, Beavers, Rovers, Explorers, Senior Scouts and many more. In some countries boys can start when they are six years old. Some programs are open to girls and boys.
World Wars
Between the two world wars Scouting continued to flourish in all parts of the world - except in totalitarian countries where it was banned. Scouting is essentially democratic and voluntary.
The war came in 1939, Scouts again carried on under their patrol leaders; they undertook many national service tasks – messengers, fire watchers, stretcher bearers, salvage collectors and so on. In occupied countries, Scouting continued in secret with Scouts playing important roles in the resistance and underground movements. After the liberation, it was found that the numbers of Scouts in some occupied countries had, in fact, increased.
The '60s, '70s and '80s
Many countries gained their independence during these years. Scouting in developing countries gradually evolved to be a youth program, which was designed by Scout leaders in each country to better meet the needs of their communities.
Scouts, particularly in developing countries, became more involved with issues such as child health, low-cost housing, literacy, food production and agriculture, job skills training, etc.
Drug abuse prevention, life skills training, integration of the handicapped, environmental conservation and education, and peace education became issues of concern to Scouts around the world.
Post Communistic Era
In the 1990s Scouting has been reborn in every country where it existed prior to World War II, and it has started throughout the newly independent countries of the Commonwealth of Independent States (formerly the USSR). Since 1993, 35 countries have joined, or rejoined, the World Organization of the Scout Movement.
What started as a small camp on Brownsea Island is today a growing Movement with members in nearly every country in the world. What started as an outdoor camp to teach skills is today a program that is used successfully in such diverse settings as developing countries and metropolitan inner-cities.
The Order of the Arrow - Society of Honor Campers
Unami Lodge, and the Order, was founded at Treasure Island Scout Camp in the summer of 1915 by E.Urner Goodman, the Camp Director, and Carroll A. Edson, the Assistant Camp Director, to perpetuate camp traditions and ideals from summer to summer. The organization was to be based on Leni Lenape Indian traditions.
Preliminary research on the Delaware Tribes and language was done prior to the start of summer camp by "Shorty" Rolston, a Philadelphia scouter.
At Treasure Island, a natural ravine near the south tip of the island is selected as the new Order's ceremonial ground. Preparatory work in getting this site ready for use is done by Goodman and Harry Yoder of Philadelphia Troop 3. Yoder is soon appointed as the Order's first guide and guardian. A totem decorated with a tortoise was erected at the ceremonial ground. This totem was chosen because it was used by Chingachgook and Uncas (familiar from James Fenimore Cooper's Leatherstocking Tale and our own Legend). The tortoise is also the symbol of one of the three major Delaware clans (along with the Turkey and Wolf).
The original robes are made by a local farmer's wife and after dark in mid-July the first ceremony is performed. Two scouts (Robert Craig and Gilpin Allen) are led silently by Guide Yoder in single file from the flag pole at the parade grounds to the ceremonial grounds and a three step open ritual begins before the assembled camp. Each of the three parts of the ritual represents a different ideal of the new society called Wimachtendienk W.W.: Brotherhood, Cheerfulness and Service. The first ordeal is spent performing service for the local farmers on the mainland in silence and without food. At the end of the first summer 25 members (including Goodman and Edson) are wearing the black sashes with white bars of the Order.
During the first year Dr. William Hinkle plans the ritual for the second degree, later to be called Brotherhood in the 1930s. This gives rise to the third degree, later to be called Vigil. The first vigil honor goes to E.Urner Goodman followed that winter by Carroll Edson. Returning from historic Devil's Tea Table where his vigil was kept, Goodman receives only his Indian name, Nuwingi (or willing), as the triangle representing vigil is not yet used.
Later that first year the arrow and turtle are formally adopted as symbols of the Lodge. George Chapman is elected as the first Lodge chief.
A second Philadelphia Lodge (Unalachtigo, 8) based on the Turkey Clan of the Delawares is soon established at Philadelphia Council's Camp Biddle. This is merged into Unami Lodge with the closing of this camp.
Unami Lodge hosts Grand (National) Lodge meetings in 1921, 1925, 1929 and 1936. At the 1921 meeting E. Urner Goodman is elected the first Grand Chieftan.
The Lodge House on Treasure Island is begun in 1919 and completed in 1921 with funds and labor supplied by the Lodge. A dining addition is added in 1937 and a sleeping addition and bathroom are added in the 1980s. The original structure is much the same today as in was in the 1920s.
Hart Scout Reservation opens in 1930 and in 1935 Unami Lodge opens a renovated stone farm house on Swamp Creek Road as its Lodge House at this camp.
In 1935 Unami Lodge changes its name to Unami Tribe, likely due to religious implications of the word "Lodge." This change lasts about one year,when the name reverts back to Unami Lodge. The Lodge celebrates its fiftieth anniversary in 1965 by hosting the Area 3A Conclave with E. Urner Goodman in attendance. Over 1000 brothers attend the annual banquet that year.
The 1980s mark the end of an era. Dr. E. Urner Goodman passes away in March 1980 in Clay County, Florida at Penney Farms, retirement community founded by J.C. Penney in 1925 followed in October1986 by Carroll A. Edson in Sharon, Windsor, Vermont.
In January 1996 Unami Lodge undergoes its second merger, combining with Delmont Lodge #43, creating a strong, cohesive unit. Delmont Lodge dates back to July 9, 1929 when Jack Foster, Activities Director at Camp Delmont and Henry Faucett with the aid of Russell Mott of Minsi Lodge 5 charter Delmont Lodge 43. Earlier that summer both Foster and Faucett take their ordeal at Treasure Island Scout Camp. 61 members are inducted into Delmont Lodge the summer of 1929. Delmont holds its first Brotherhood ceremony on April 26, 1930 at the Norristown Scout Cabin. The ceremony is similar to that held today except it included a "bloodletting." Costumes are borrowed from Unami Lodge. Jack Foster becomes Delmont's first vigil member on September 12, 1931 at the National meeting at Lake George, New York.
Today Unami Lodge #1 serves the five great scout camps of The Cradle of Liberty Council: Treasure Island (founded 1913), Resica Falls (founded 1956), and the three camps of Musser Scout Reservation, Camp Delmont (founded 1916), Camp Hart (founded 1930) and Camp Garrison (opening in 1999).
As young men growing up in Philadelphia, Joseph N. Pattison III and his twin brother William S. Pattison (my Grandfather) were quite active in the Boy Scouts of America. As members of Troop 3 in Philadelphia, they were the first double Eagle Scouts in the movement, earning twice the required merit badges. They earned the Eagle Scout award on September 29, 1921 (Joe) and (Bill) October 31, 1921; with a Court of Honor Ceremony for the presentation on November 10, 1921.
Around 1920 the Pattison twins were inducted into the Order of the Arrow, Unami Lodge One, later were bestowed Vigil Honor in 1928 (Joe) and 1930 (Bill). They served on the staff of Treasure Island Scout Camp, Leaders of Troop 217 at Holy Trinity Presbyterian Church and as Unami Lodge Chiefs. Joseph N. Pattison III went on to serve as Grand Lodge Treasurer for the Order of the Arrow Unami Lodge One for a number of years. This, and his dedicated service to Scouting and the Lodge led to being awarded the Distinguished Service Award. He was inducted with the first group in 1940 which included E. Urner Goodman, Carroll Edson, James West and 7 others.
Unami Lodge One Chiefs
Joseph N. Pattison III 1926 William S. Pattison 1927
The Distinguished Service Award History
First awarded in 1940. There were 11 recipients, they were: Thomas G. Cairns, Carroll A. Edson, E. Urner Goodman, Harvey A. Gordon, Robert S. Henderson, Dr. William M. Hinkle, H. Lloyd Nelson, Alfred C. Nichols Jr., Joseph N. Pattison III, William A. Stumpp, Dr. James E. West
The Distinguished Service Award (DSA) is a service recognition award for those who have rendered distinguished and outstanding service to the OA on a sectional, regional, or national basis over a period of years.
The first awards were presented at Camp Twin Echo, Pennsylvania, to E. Urner Goodman, Carroll A. Edson, and eight others at the 1940 national meeting. Between 1940 and the first national conference in 1948, the award was presented at national meetings as deserving individuals were found. Thereafter, the award presentation became a traditional part of the pageantry and ceremony of the national conference.
Since the time of the first awards in 1940, fewer than 900 Distinguished Service Awards have been presented. This alone is a testament to its high standard of excellence. The award is a sterling silver arrowhead, bearing an arrow pointing upward and to the wearer's right, suspended from a white neck-ribbon upon which are embroidered red arrows (the first awards were suspended from a forest green ribbon – the current ribbon has been in use since the 1960s). A white square knot embroidered upon red cloth is available for uniform wear, and a miniature silver arrowhead lapel pin is available for civilian wear.
Presentation of the award is limited. Arrowmen whose service records are the most outstanding and extend farthest beyond others are usually selected. Nominations are open to both youth and adult Arrowmen.
Some Early (1915) Treasure Island Pictures, 1917 Troop 3, Alfred Nichols and TI Staff 1925
A full photo essay from 1917 to 1930 based upon my Grandfather's pictures (taken and developed by himself) will be added soon to the Photo History Page.
First Scout Executive, Dr. James E. West
Dr. James E. West (May 16, 1876 – May 15, 1948) was a lawyer and an advocate of children's rights, who become the first professional Chief Scout Executive of the Boy Scouts of America (BSA), serving from 1911–1943. Upon his retirement from the BSA, West was given the title of Chief Scout.
Personal life
His father died around the time of his birth in Washington, D.C. His mother was hospitalized with tuberculosis in 1882 and young Jimmie was placed in the Washington City Orphan Home; his mother died later that year. In 1883, he was diagnosed with tuberculosis, and by 1885 he was crippled, with one leg shorter than the other. At the orphanage, Jimmie was put to work with the girls, sewing and caning chairs. He became a voracious reader and took charge of the orphanage library. After convincing the staff that he could continue his chores (stoking the furnace and caring for chickens) he entered public school at the fifth grade. In 1895, he graduated with honors from Business High School, where he had edited the school newspaper, was business manager of the football team and had acted as a substitute math teacher.
In late 1896, West was out of the orphanage and working as a tutor and as a bicycle mechanic. He attended National Law School while working as the assistant to the general secretary of the YMCA, and during the Spanish–American War, he acted as general secretary. He later worked as a clerk in the War Office. He received his Bachelor of Laws in 1900 and Master of Laws in 1901 and was admitted to the Washington, D.C. bar. President Theodore Roosevelt appointed him to the Board of Pension Appeals in the Department of the Interior in 1902. He was instrumental in establishing the juvenile court system, pushing a bill through Congress.
West was a Mason, a member of the Knights of Pythias and the Sunday school superintendent for the Mount Pleasant Congregational Church. In the early 1900s, he was the finance chairman for the Boys' Brigade and the secretary of the Washington Playground Association, later the Playground Association of America. He later served as secretary of the National Child Rescue League, responsible for placing orphaned children into homes. West was then the secretary of the White House Conference on Dependent Children, pushing for reforms in the management of orphanages.
In 1910, West was looking to open a private law office. Meanwhile, John M. Alexander was serving as Managing Secretary from May to October, under the general auspices of Edgar M. Robinson, who had set up BSA's original one-room national office and recruited Alexander to run it. Neither Robinson nor Alexander wanted to run BSA permanently, so Colin H. Livingstone, the president of the BSA put out inquiries. Ernest Bicknell of the American Red Cross wrote to Luther Gulick, president of the Playground Association of America and recommended West for the position. After much persuasion West finally accepted the position temporarily for six months, and moved to New York City, while Robinson returned to the YMCA and turned BSA's reigns over to West. The Russell Sage Foundation provided the initial funding for West to become the first Chief Scout Executive of the Boy Scouts of America. The position was supposed to last no longer than 6 months, but West held the position for 32 years.
West married Marion Speaks on June 19, 1907. Their children were: James "Jimmie" Ellis West (December 25, 1909 - 1916), Arthur (born 1912), Marion (born 1915), Helen (born 1916), and Bob (born 1917). Young Jimmie died of pneumonia in 1916 while Marion West was pregnant with Helen. Their daughter Marion West Higgins would go on to serve as the first female Speaker of the New Jersey General Assembly.
Scouting
The new BSA office on 5th Avenue opened in January 1911 with West at the helm and the movement began to grow at a rapid pace. Sixty local councils were organized in January and hundreds of Scoutmasters were commissioned. The office grew from six to thirty-five employees by May. One of his first tasks was the first edition of The Official Handbook for Boys. West was instrumental in expanding the third part of the Scout Oath:
To help other people at all times; to keep myself physically strong, mentally awake and morally straight.
He also pushed to add three parts to the Scout Law: brave, clean, and reverent. West changed his title, and in November 1911 he became the first Chief Scout Executive. His starting salary was $4,000 per year and was raised to $6,000 per year in July (equivalent to about $140,000 in 2009).
West dealt with many early issues. Labor unions protested over wording in the original Official Handbook that had been copied from the British Scouting for Boys that was perceived as anti-union — this had already been removed from the first edition. West also dealt with those who protested against the inclusion of African Americans. West held that they should be included, but that local communities should follow the same policies that they followed in the school systems. Thus, much of the American south as well as many major northern communities had segregated programs with "colored troops" until the late 1940s, with some councils were not fully desegregated until 1974. Since the BSA had early and enduring ties with the YMCA, a firmly Protestant organization, the Roman Catholic Church forbade their boys to join. West successfully argued that Scouting was non-sectarian and the Catholics accepted the BSA program in 1913.
As early as 1910, Daniel Carter Beard and Ernest Thompson Seton had various arguments over who was the founder of Scouting. Programs for boys had been advanced by Seton in 1902, Beard in 1905 and Baden-Powell in 1907. Since Baden-Powell had based parts of the program on Seton's work, Seton claimed to be the founder. By 1915, the conflicts between had escalated and West attempted to defuse the situation.
Beard and Seton did not get along with West. Seton had different goals for the program and views of how Scouting should develop. Both Seton and Beard saw West as a city lawyer and administrator. Seton often challenged West's authority, often to his own detriment. The National Executive Board did not re-elect Seton as Chief Scout in 1915 and he soon stopped publishing in Boys' Life. By early 1916, Seton was officially out of the BSA program, and most of his contributions were removed from the 1916 edition of the handbook. West also clashed with the BSA's founder, William D. Boyce, who eventually left the BSA in January 1915 to found the Lone Scouts of America (LSA). LSA initially flourished but had to merge back into the BSA in June 1924. West even had Boyce's name erased from BSA records for years. Competition from the ABS caused West to seek a federal charter for the BSA, granted on June 15, 1916.
In the years before World War I, pacifism and patriotism often came into conflict, and the BSA was sometimes in the middle. Some thought that the BSA was too militaristic, especially as characterized by their military style uniforms and discipline, while others felt that the BSA was unpatriotic in their stance against military training. In 1912, a member of another organization, the American Boy Scouts, shot another boy by accident. West quickly distanced the BSA from the American Boy Scout program and any military training or discipline. He refused to allow the BSA Supply group to sell the Remington rifle endorsed by the ABS and de-emphasized the Marksmanship merit badge. The National Rifle Association lobbied the Executive Board to issue the badge. In 1914, Colonel Leonard Wood resigned from the board after a pacifistic article was published in Boys' Life that he considered to be "almost treasonable". After Theodore Roosevelt admonished West, he toned down the rhetoric and later began to issue the Marksmanship merit badge.
West fiercely defended the use of the term Scout and the right to market Scouting merchandise. By 1930, West claimed to have stopped 435 groups from unauthorized use of Scouting; both as part of an organizational name and in the use of commercial products. When the Girl Scouts of the USA started, West discouraged the program. In 1911, West worked with Luther Gulick when the Camp Fire Girls were established and always considered the them to be the sister program of the BSA. When the Girl Scouts refused to give up their name in 1918, West appealed to Baden-Powell with no results. Lou Henry Hoover became the president of the Girl Scouts in 1922 and First Lady in 1929; West stopped his campaign to rename the Girl Scouts.
West negotiated the purchase of Boys' Life in 1912, making it the official magazine of the BSA. He began a campaign against pulp fiction and introduced a library of recommended books.
The BSA celebrated West's 25th year as Chief Scout Executive by commissioning a portrait by Albert A. Rose. The portrait was featured on the July 12, 1937 cover of TIME Magazine in recognition of the first national Scout jamboree. (see next article)
Legacy
While West created a well-organized national structure that was a key to the BSA's growth, reputation, and highly respected national organization, he long resisted the creation of a Cub Scouting program for younger boys, feeling that they would take focus away from the main program, Boy Scouts (including Explorer Scouts) youths aged 11-17. However, the popularity of pilot programs in America similar to Wolf Cubs in England and Canada was such that he eventually was won over to the official introduction of Cub Scouting in 1930.
After James E. West retired as Chief Scout Executive, Dr. Elbert K. Fretwell succeeded him. Upon retirement, West was given the title of "Chief Scout" of the BSA, the same title that Seton had held. Dr. West served on the World Scout Committee of the World Organization of the Scout Movement from 1939 until 1947. International Scouting honored West with the Bronze Wolf Award. He is buried in a grave in Kensico Cemetery, Valhalla, New York.
In 1993, the BSA created the James E. West Fellowship Award for individuals who contribute $1,000 or more in cash or securities to their local council endowment trust fund.
Monday, Jul. 12, 1937
SCOUTS: National Jamboree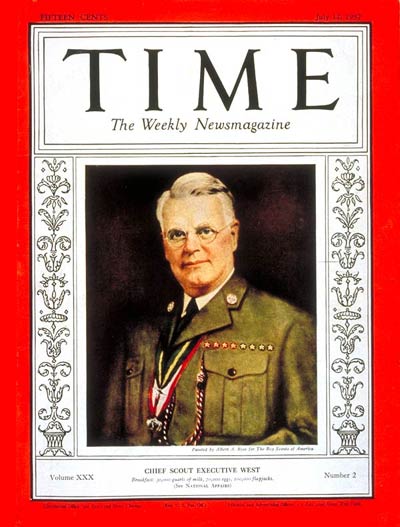 In Europe 725 years ago, children disappeared wholesale from their homes. Peasants in their fields stood and stared at a strange sight. Strung out for miles 20,000 youngsters traipsed along the cart tracks of Germany following a lad named Nicolas. In France other thousands, laughing, playing, singing hymns, made their way southward behind a lad named Stephen. The children, attacked by the same urge which had already seized their elders, were going forth to reconquer the Holy Land for Christianity. Like their elders few of them ever returned. Where the army of German children went no man ever knew. All that they left behind was the legend of the Pied Piper of Hamelin. Where the French children went is better known. Many of them were kidnapped, sold to slavery in Egypt. Never until last week had the U. S. seen a juvenile mass migration comparable to the famed Children's Crusade of the 13th Century.
But last week the U. S. saw and heard more than 25,000 boys invade the city of Washington. Their tent cities spread beneath the Washington Monument, over Potomac Park both north and south of the Tidal Basin, across the river on Columbia Island and into the fields below Arlington National Cemetery on the Virginia shore. Everywhere bare kneed youngsters in khaki perambulated through the streets with cameras and autograph books. Everywhere rose a babel of youthful voices, in childish versions of the accents of Maine and California, of Wisconsin and Texas. No connoisseur of mob scenes had ever seen such a sight; never before had the Boy Scouts of America held a National Jamboree.
For a whole day Washington's Union Station was bedlam as troops of grinning boys in uniform piled off trains accompanied by young Scout Masters. Busses hustled them out to the river front parks where cooking, dining, administration tents and innumerable little wooden comfort stations had already been erected. The arrivals scattered over 350 acres, erected bright-colored tents for themselves, pounded tent pegs and fingers. At 8:45 next morning a trench mortar boomed and 25,000 Boy Scouts stood at attention. It boomed again and the flags of 52 nations rose in an avenue of flags beneath the Washington Monument. It boomed a third time, up went 1,634 flags to 1,634 mastheads throughout the encampment. The ten-day Jamboree had opened.
Progenitors. On the first evening of the Jamboree one of its three compulsory functions was held.*Some 28,000 boys and Scout Masters crowded around the base of the Washington Monument for the lighting of the Camp Fire. Up stepped wizened little Daniel Carter Beard with trusty flint and steel, struck the spark which lit a torch which ignited two big campfires. Old Dan Beard had every right to that honor. He has worn out more deerskin shirts and done more for boys than any magazine illustrator now alive. At 87 he is still spry and alert, throws hatchets for exercise.
When he was of Boy Scout age the Civil War was going on and Dan Beard lived along the Ohio River, where he saw some fighting. Afterwards he became a civil engineer, a surveyor of maps, then drifted to Manhattan, studied at the Art Students' League with Charles Dana Gibson and drifted into illustrating. It was 55 years ago that Illustrator Beard wrote and illustrated an article for St. Nicholas called "How to Camp Without a Tent." This was expanded into The American Boys' Handy Book which subsequently sold upwards of 250,000 copies to boys who wanted to do all sorts of things that a Scout today learns. But for almost another generation Dan Beard continued as illustrator and author of boys' books,*and it was not until he was 55 and editor of the magazine Recreation, that in casting around for a circulation stunt he stirred up the beginnings of the American Scout-movement. He founded in his columns The Boy Pioneers, Sons of Daniel Boone. The name Boy Scouts came later, from overseas. During the Boer War, General Robert Baden-Powell perfected a course in scout training to teach 'the little Cockney recruits who were sent out to him how to be of some use in Africa's wilds. Later he went back to England and adapted it to training city-bred boys. General Baden-Powell, who was made an Earl for his good work and who, like Dan Beard, is still spry at 80 and exercises by touching his toes, gave more than a name to scouting. His British Scout oath and Scout laws were the basis around which the Boy Scouts of America were founded in 1910. When formed it was a merger between several U. S. organizations including Dan Beard's Sons of Daniel Boone and the Woodcraft Indians started by Naturalist Ernest Thompson Seton. The name Boy Scouts of America was incorporated by the late William D. Boyce of Chicago, publisher of the old-time Saturday Blade (for farmers) and Ranger (for boys) to whom a British Boy Scout had done a good turn in a London fog. Also in on the founding were the Red Cross, the Y.M.C.A., the U. S. Army Medical Corps, Theodore Roosevelt's Outlook, the Russell Sage Foundation, and such assorted characters as Lincoln Steffens, Mortimer L. Schiff, Admiral Dewey, John Wanamaker, Leonard Wood. But right from the start the most important figure was a young Washington attorney named James E. West, hired as executive to put the young organization on its feet. James West was no Boy Scout in his youth. He was an orphan and in his boyhood he developed tuberculosis of the hip & knee so that he was an unwelcome inmate at Washington institutions. Over immense handicaps he got himself an education and became a lawyer. Interested in the Y.M.C.A., he was attending a settlement house meeting one evening when his one-lunged automobile disappeared. He found it at the foot of the hill along with a policeman and a badly scared boy. Summoned to court as a complaining witness he acted instead as the boy's attorney, got him off from a charge of operating without a license. Then he went to President Theodore Roosevelt and demanded that a Juvenile Court be created for the District of Columbia. Thereafter T. R. was one of his backers.
From the day in 1910 when James West took his job with the Boy Scouts until last week which found him sitting at a mahogany desk in the administration tent under the Washington Monument, he has been running the Boy Scouts. That the Boy Scouts are today different from the boys organizations of Germany and Italy, different from the British Boy Scouts, different from the puny organizations they were in 1910, is largely James West's doing.
Progeny. Dr. West's records show that there are 1,075,000 in the Boy Scout organization in the U. S., that altogether some 7,500,000 Scouts and Scout-leaders have been connected with the organization during the last 27 years. He calculates that nowadays one out of four U. S. boys is connected with the Scouts at some time during adolescence. What boys get from this contact is partly a knowledge of those boyhood arts which Dan Beard incorporated in his Boys' Handy Book 55 years ago, and partly exposure to propaganda, not of a political kind as in Fascist countries, but of the kind embodied in the Scout law.
The British Scout law of Lord Baden-Powell is long and rambling, the U. S. Scout law brief, better written. British Law No. 2 says: "A Scout is loyal to the King and to his officers and to his parents, his country and his employers. He must stick to them through thick and thin against anyone who is their enemy or who even talks badly of them." The U. S. Law No. 2 says simply: "A Scout is loyal. He is loyal to all to whom loyalty is due: his Scout Leader, his home and parents and country." Aside from the fact that loyalty to employers is not mentioned in the U. S. version out of deference to such organizations as John L. Lewis' United Mine Workers, who at one time looked askance at the Scouts, the difference is typical. Otherwise the parallelism is perfect through all the first nine Scout laws (Trustworthiness, Loyalty, Helpfulness ["at least one good turn every day"], Friendliness, Courtesy, Kindness to Animals, Obedience, Cheerfulness, Thrift). But the U. S. Scouts added three laws of their own. U. S. Romanticism required the tenth law: "a Scout is Brave"; U. S. sanitation required an eleventh law: "a Scout is Clean" (which the British afterwards copied). And the spirit of the Y.M.C.A. demanded the addition of the twelfth: "a Scout is Reverent."
Relatively young men who were Scouts only a few years ago are often ignorant of Scouting's present ramifications. Instead of entering the Scouts at 12, a youngster may now enter as a "Cub" at 9. After three years in a Cub Pack, he may become a tenderfoot Scout after learning the knots, etc., etc.; a second-class Scout after learning first aid, woodcraft, etc., etc.; then a first-class Scout after swimming 50 yards, etc., etc.; a Star Scout after winning five merit badges, a Life Scout (ten merit badges) and an Eagle Scout (21 merit badges). At 15 he becomes a Senior Scout and new vistas open before him. He may become a Sea Scout (with blue uniform) or an Explorer, and at 17 a Rover.
Not only has the curriculum lengthened but it has broadened. To take care of farm boys many agricultural merit badges are now obtainable. Water sports have been increased and one important Scout activity is to teach several thousand boys to swim every year. In the South colored Scout troops have been formed.
Meantime the central organization has blossomed out. Handbooks have been issued instructing Scoutmasters in all arts from raising money and handling parents, to the best psychological methods of picking patrol leaders, the proper accounting forms for Scout funds. The funds of the general organization are elaborately budgeted and solidly provided for by receipts of 50¢ a year from each Scout and by the income from the Scout magazine, Boy's Life (300,000 Scout subscribers at 75¢ each). A thoroughly integrated institution, the Boy Scouts have even an expert publicity department fully equal to such tasks as turning out a Jamboree Journal (16-page daily tabloid) the ten days at Washington. As for mimeographed press releases, they issue so well-prepared and so numerous from Boy Scout quarters that even the prolific press agents of the New Deal regarded them with awe. The Boy Scouts of America is today no amateur movement but a full-grown U. S. institution, one of the most elaborately integrated, self-perpetuating social mechanisms in a nation which dotes on organization.
25,000 Monkeys. It was well that the Boy Scouts have an elaborate organization for it undertook no mean responsibility in bringing some 25,000 Scouts to Washington. A staff of nearly 200 doctors was kept busy examining every arrival to prevent any infectious disease getting started. In the first 48 hours only five boys were sent to Naval Hospital where arrangements had been made to hospitalize any Scout requiring more than 24 hours treatment: two had appendectomies, one a broken arm, one a bad case of poison ivy, one mumps. Doctors continued to make daily inspections of all Scouts who had had any contact with the mumps boy. Each troop held sick call every morning.
Bigger than the medical staff was the kitchen staff: 250 chefs in 25 big kitchen tents had the job of frying 100,000 flapjacks for breakfast, of coping with 30,000 quarts of milk, 70,000 eggs, two tons of sugar, 13,000 Ib. of meat delivered every morning and serving it more or less hot to over 800 mess tents. Telephone connections and mail deliveries to the camp sites had to be organized on a similar scale.
But neither these arrangements nor the high ideals of scouting were any burden on the 25,000 monkeys who swarmed over the encampment, riding bicycles, darting from behind every park bush to the terror of automobile drivers. At 17th Street & Constitution Avenue were encamped about 400 foreign Scouts, troops from Chile and Poland, a Philippine Scout who had flown from Manila, British Columbians who had bicycled 3,500 miles, two Venezuelans who had tramped for 30 months through jungles covering the entire distance to Washington on foot. About 1,000 U. S. Scouts were to sail for a world jamboree to be held this month in The Netherlands. The thousands who were to go no farther than Washington swarmed over the foreign encampment, gathering autographs from strange places.
Every morning and afternoon there were optional sightseeing expeditions to the Capitol, Mt. Vernon, Arlington, etc., etc. Scouts swarmed through Washington buying films for their perpetual photographing. On six nights there were "arena displays" given at the foot of the Washington Monument by Scouts of two regions (there are twelve in the U. S.). One afternoon there was a Sea Scout regatta, one evening a fireworks display. But more fascinating than spectacles, drills or speeches by oldsters about Scout ideals was the extracurricular activity in which all 25,000 assiduously engaged—swapping. To Washington they had brought a strange assortment of impedimenta: wampum, pine cones, stuffed birds, sharks teeth, shells, sponges, live hoot owls, pickled scorpions. Texans (dressed in chaps) brought a large consignment of live horned toads. West Virginians brought hunks of coal shellacked for paperweights. Californians brought 20-ft. strips of movie film.
With these trade goods, the young merchants wandered around, to the wooden fence near the camp of the Bahamians, the barbed wire fence of the Texans, the Paul Bunyan display of the Wisconsin Scouts, the Florida encampment hung with Spanish moss. All day, every day the tent cities echoed with the wrangling of Young America trading what it possessed for something else it wanted.
The Jamboree cost upwards of $600,000. All the U. S. Government and the city of Washington provided was the land used, the loan of Army tents and similar equipment. Traveling and living expenses were met by the Scouts, each one present contributing $25 (besides his railroad fare) which he, at least in theory, earned.
Boy Scout cheerfulness was put to the test this week by a downpour that lasted all Sunday night and half the next day, turning much of the camp area into quagmire. Undismayed, 5,000 selected Scouts marched to a memorial service in the Arlington National Cemetery theatre, placed a wreath on the tomb of the Unknown Soldier. Governmental high spot of the jamboree came later this week with President Roosevelt's review. Instead of waiting while the 25,000 passed him, the President was to drive down Constitution Avenue, lined for two miles by cheering Boy Scouts.
*The other two: church on Sunday, review by the President. *Among his jobs was illustrating the first edition of A Connecticut Yankee in King Arthur's Court, which injured his reputation because he pictured monks imbibing from tankards.