Unser Schatten-vollkommener Sturm
Call Name: Shadow
Great Dogs of the Past, T.Rex, Thunder, Steely
April 2012.....Shadow is 77.8 lbs.
















These taken June thru November 2010. Weight hovers around 65 and Shadow enjoys his life as a spoiled dog!











11 lbs. 8 weeks












at 9 1/2 weeks 15.75 lbs



at 10 weeks 17.2 lbs.


now at 22.75 lbs!

Easter Pup at 28lbs!








WOW! At 16 weeks and 36 lbs. Shadow takes up cross stitch.
He shows his prowess by eating Tammy's needle & thread; then
unscathed by pooping it clear through!


Now 40 lbs!!!









Shadow is now 50 lbs







57 lbs






65 lbs!1 year


Gone to the Dogs Page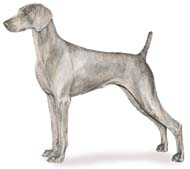 Breeder: Hoot Hollow Weimaraners
Sire: CH UNITY'S NUTTIN' HONEY

Dam: CH HOOT HOLLOW'S BEACH PARTY
The Puppies Arrive (Jan. 2009)